It was a glorious October day in 2016 when a team from the Nebraska Land Trust (NLT) descended on Mary Lou Chapek's land in Washington County.  The warm weather was complimented by the warm colors of autumn as shades of red, orange and yellow seemed to glow beneath a deep blue sky.  Oak/hickory woodlands blanketed the steep hills flanking the Missouri Valley, while marshes, lakes and creeks occupied the valley floor.  At one point, a team member observed, "If I was transported to this land without knowing where I was, I'd think it was upstate New York."  Last December, this 595-acre property 20 minutes north of Omaha was protected forever, when Mary Lou generously donated a conservation easement to the NLT.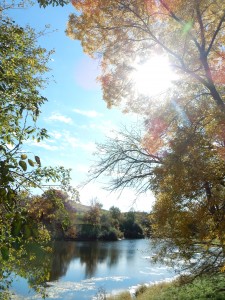 The NLT team was visiting the property to prepare a Baseline Documentation Report, which is a necessary part of every conservation easement.  As we toured the property with Mary Lou and she recounted its history, it became increasingly clear that we were protecting much more than a pretty piece of land.  We were protecting Mary Lou's conservation vision that ultimately achieved an exceedingly rare goal — restoration and "reverse fragmentation."
Mary Lou's conservation journey began when she was 8 years old and started attending a summer church camp in the rolling hills near Blair.  This experience kindled a love affair with nature and cemented her dream to someday return to this beautiful area.  Twenty years ago, her dream was realized when she and her husband purchased 12 acres near Fort Calhoun.  As Mary Lou's business success grew, so did her conservation vision as she continued to purchase surrounding parcels whenever possible.  In this fashion, she eventually assembled the 595-acre property she stewards today, achieving "reverse fragmentation" by reassembling many separate parcels into one protected whole!
Some landowners simply view land as an asset to be maximized regardless of the land use, which is an understandable in a free market economy.  But there are also those who love their land like a relative, so they want to protect it from harm.  These are the landowners that the NLT works with and it describes Mary Lou perfectly.  Perhaps this view was best captured by Willa Cather in O Pioneers when she wrote, "We come and go, but the land is always here.  And the people who love it and understand it are the people who own it – for a little while."
There is no doubt about Mary Lou's love for the land and she has gone to great lengths to understand it as well by delving into restoration of its ecology.  In 2001, she embarked on implementation of a 25-year Master Plan designed by Fontenelle Forest to further enhance and restore native plant communities on the property.  To date, 60 acres of tallgrass prairie has been restored on steep, highly erodible hills that had previously been farmed.  Dozens of native trees have been planted, invasive plants have been controlled and a two-acre pond was created for wildlife.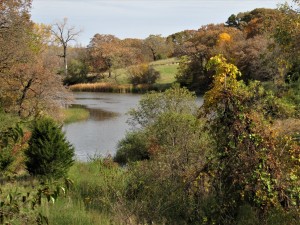 To better understand the ecological health of the land, volunteers monitor butterflies, frogs, bats and other wildlife.  A recent bat survey found seven of the nine species that are found in eastern Nebraska, including the Northern long-eared Myotis which has been listed as a federally threatened species.  The health of the land is also illustrated by Monarch Butterfly surveys.  In 2015, 140 were counted which was a sharp increase from 113 the year before and 13 counted in 2012.  In fact, more Monarchs were counted on Mary Lou's land in 2015 than on five other area sites combined.   Four species of milkweed on the property are likely a factor.
Birds are another measure of ecological health and there are 79 bluebird boxes on the land that fledged an estimated 253 young in 2015.  Other birds that have been sighted include bald eagles, trumpeter swans, American kestrels, a large variety of migratory waterfowl, egrets, barred owls, great horned owls, indigo buntings, green herons and many more.
Given her conservation vision that achieved so much, it is easy to understand Mary Lou's passion to seek permanent protection of the land that she loves.  As she explained to the Washington County Board when seeking approval for the easement, "I have devoted over 20 years of my life and much of my hard earned resources to preserving this beautiful place for generations yet to come.  By donating a conservation easement to the NLT, I can be sure that this property will be saved from development both now and in the future."