June 23, 2023
Nebraska Land Trust (NLT) is proud to partner with Les and Jan Graham to conserve their 8,244 acre ranch in Holt County. This is NLT's largest easement to date.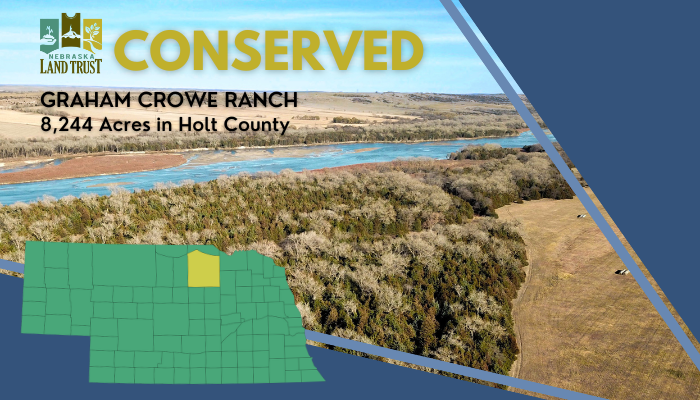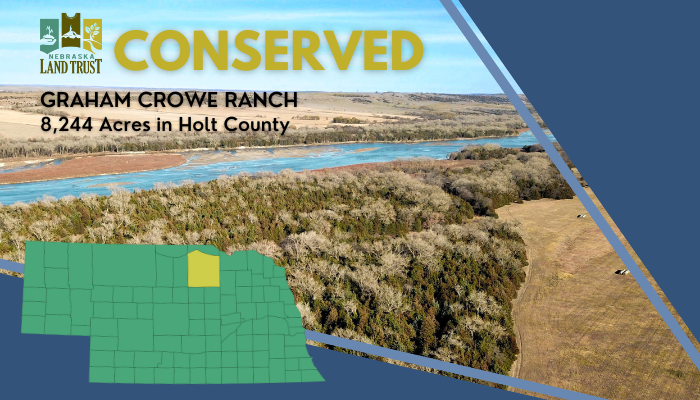 Graham Crowe Ranch is one of the largest grasslands in northeast Nebraska under one owner and includes over 4 miles of Niobrara River frontage. In addition to keeping this ranch in working agriculture, this agricultural land easement provides numerous other environmental benefits including improvements to water quality in the area.
The ranch is also incredibly ecologically diverse, with a lengthy list of identified species of conservation concern, including the Piping Plover, Ruby-throated Humming Bird, and Regal Frittilary Butterfly, among others.
A special thank you to the Grahams for conserving this important piece of Nebraska's agriculture and natural resources.
Nebraska Land Trust has worked with landowners to conserve 47,214 acres to date across 23 counties. As always, we hope you stay tuned as we continue working to conserve Nebraska's agricultural, historical and natural resources.