Inspired by seemingly endless grasslands near Red Cloud, Willa Cather captured the beauty of Nebraska's prairies in words like no other. Although the prairie is no longer endless, a visitor to the 612-acre Willa Cather Memorial Prairie south of Red Cloud can still capture that experience, especially when they gaze at the adjacent 1,147-acre never-plowed prairie owned by Brandon and Kami Meyer. Thanks to the Meyer family, this prairie view will remain as timeless as Cather's novels, since it will now be conserved forever through a conservation easement with the Nebraska Land Trust that was completed in early June.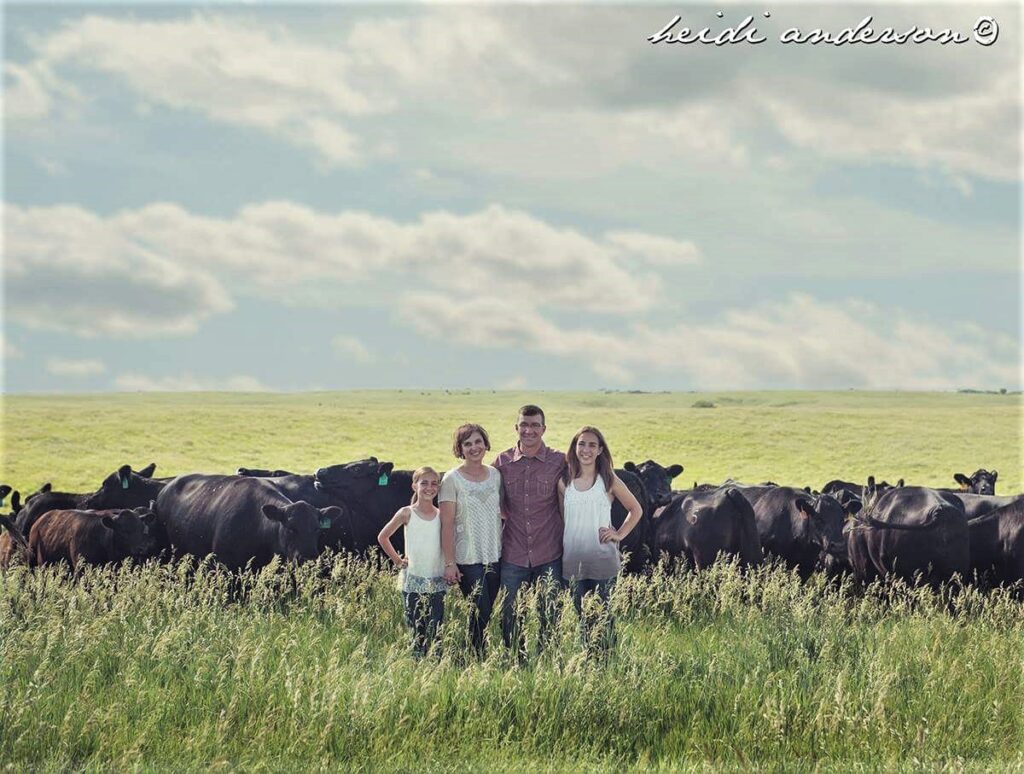 Kami's grandfather started this prairie on the road to conservation when he purchased it over 50 years ago with a goal to improve the grassland for wildlife and livestock. "Our family grew up with a very strong passion and respect for this particular pasture," Kami explained. "Not only is it ideal for grazing, it serves as an exceptional refuge for wildlife, fish and birds. With the rolling hills, heavily wooded creek, numerous ponds and springs, it would be a shame for this ground to not be protected for future generations to enjoy and appreciate."
In the side-hills of the Republican River Valley where the prairie is located, most of the native grasslands have been converted to cropland. "In the past decade," said Brandon, "farming and developments have taken such a large part of the countryside that we feel it is extremely important to do our part to protect some of the grassland that is left."
Ashley Olson, Executive Director of the Willa Cather Foundation, helped to identify the prairie as a conservation opportunity. "When visitors arrive at the Willa Cather Memorial Prairie," she said, "they have the rare opportunity to see a 360-degree view of undeveloped land" described so eloquently in Cather classics like My Antonia and O Pioneers. "We are pleased to have played a small role in facilitating this conservation easement," she continued, "and are certain that future generations will also marvel at the unbroken horizon and unplowed prairie described in Cather's writing."
To Wayne Mollhoff, author of The Nebraska Breeding Bird Atlas, the Meyer grassland's location is important for another reason. "If you can protect the Meyer Prairie and add those acres to the Cather Prairie, it will be a much more important resource [for wildlife] than if the same properties were several miles apart," he explained. In addition, he pointed to the diversity of habitat which attracts an array of birds. Whereas a person might find prairie chickens and meadowlarks in the grassland, they might also see four species of woodpeckers in the woodlands, wood ducks on the wetland and variety of raptors surveying it all from above.
Dave Sands, Executive Director of the Nebraska Land Trust, appreciated the Meyer's patience and commitment to conservation, as it took nearly three years to assemble the funding to purchase the conservation easement. Half of the funding was provided through the Natural Resources Conservation Service Agricultural Land Easement (ALE) program, which is designed to permanently conserve working farms and ranches under private ownership. The effort was initiated by funding from the Cottonwood Wind Project in Webster County and the remainder was provided by the Nebraska Environmental Trust. "I joke that forever shouldn't be rushed," Sands said, "and in this case, it certainly wasn't."
When asked about her thoughts on forever, Kami responded, "It is our hope that this pasture can be a part of our legacy that is passed down to our children and someday grandchildren, and that they will be able to enjoy it in the same natural state that we do." The same natural state that inspired Willa Cather.
The Omaha World-Herald covered the Meyer's legacy with their own article.