When Todd and Laura McWha preserved their 304-acre Loess Canyons prairie south of Brady last December, it was actually the second prairie they had preserved forever. Previously they had completed a conservation easement on a Sandhills prairie with a pristine stretch of Birdwood Creek.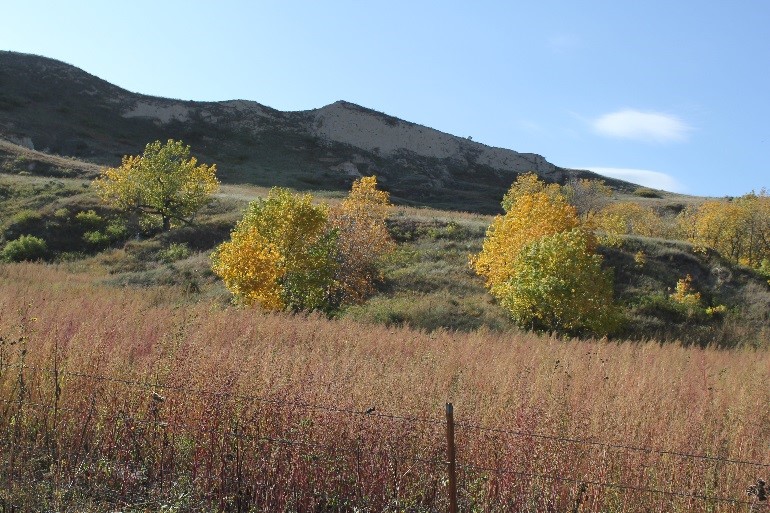 Thanks to funding provided by the Broken Bow II Wind Project, they were able to add the Loess Canyons to their conservation legacy of protected prairie in Lincoln County.  It also added to the Nebraska Land Trust's (NLT) conservation legacy in the Loess Canyons, where 3,278 acres have now been permanently conserved through five landowner agreements.
When the NLT first started working with Todd and Laura to conserve their Loess Canyons prairie, they sent a digital file that was just shy of 180 pictures, revealing much about their land.  There were sweeping views of treeless prairie capturing the dissected landscape of steep hills that characterize this rugged region southeast of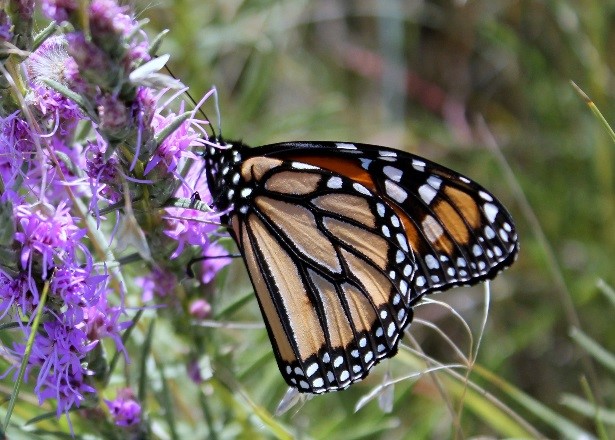 North Platte.  Other photos documented an impressive array of  wildflowers, and wildlife from pollinators to mule deer.  Clearly, this was one healthy prairie.
The pictures revealed much about Todd and Laura too, starting with the fact that Laura is an excellent photographer!  Some of her photos expressed the joy of owning the land, such as Todd enjoying a beautiful view or Laura picking wild grapes that would soon become jelly.
The hard work of land ownership was also pictured, with shots of them cutting invasive cedar trees, fixing fence and tending cattle.  Agriculture roots run deep in their families as four generations of Laura's family farmed in Kansas, while Todd's family has farmed and ranched in Lincoln County since the 1880s. "We wanted to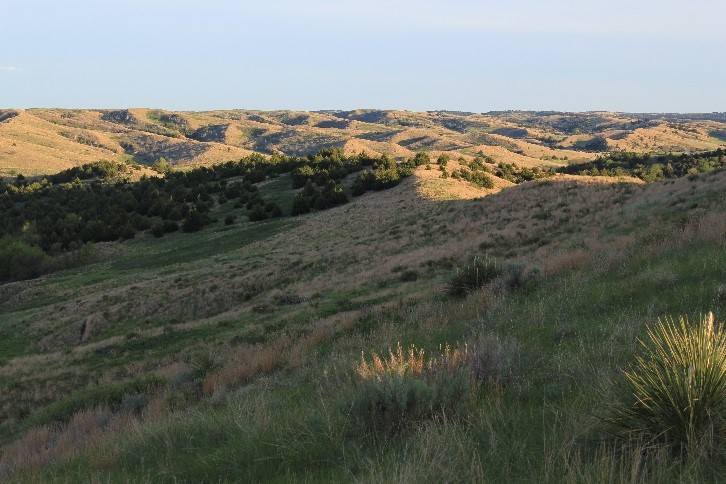 protect one of the more unique ecological areas of Nebraska and to preserve a way of life for ranchers to ensure the property can be used for cattle grazing by generations to come," Todd explained.
Between Todd's law practice and Laura working as a registered nurse, staying involved in agriculture and active management of their land makes for an extremely busy schedule.  According to Todd, "While sometimes we question how busy we are, it all becomes worth it when we walk on our property, knowing it will be preserved in its current state for not only the plants and animals to grow and thrive, but also for future ranching families to use."
(All photos courtesy of Laura McWha)