While in college, Gary and Laura Marshall fell in love with 261 acres on the Niobrara River in Boyd County. So much so that they purchased the land at a time in life when many of their peers hadn't yet purchased their first car. Nearly 40 years later, they worked with the Nebraska Land Trust (NLT) to protect it forever through a conservation easement that was completed last November. Standing on a bluff overlooking the land with expansive views up and down the valley, it is easy to see why. A carpet of grassland stretches toward a riverbank lined with woodlands and wetlands. Beneath the grass and trees, there is a human story to tell.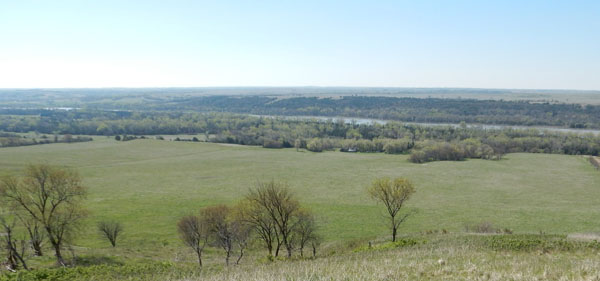 In 1858 the Ponca Tribe signed a treaty with the U.S. government ceding the rights to their land in exchange for a reservation on the Niobrara River. The Ponca Agency was constructed in 1859 and a portion of the agency was located on the Marshall property, which lasted until 1865 when the tribe moved to the mouth of Niobrara. The site was listed on the National Register of Historic Places in 2005 and offers a wealth of information about the Ponca Tribe's transition to reservation life. The conservation easement will continue the Marshalls' legacy of preserving the site's integrity so that it remains an important archeological resource.
According to Laura, "We chose a conservation easement with the Nebraska Land Trust as it is important to us to preserve and protect the historical significance as well as the native rangeland while our sons and their families are able to continue using this property in the same manner as we have in the past." Gary added, "We greatly appreciate all of the work that the Nebraska Land Trust did to make this a reality." The integrity of the historic site and grasslands have been protected by the Marshalls use of the land for grazing, which will continue. Permanent protection of grasslands is important for wildlife and cattle in this part of the state, where grassland has been increasingly converted to cropland, especially when the price of corn is high.
The grassland was also fundamental in funding the easement's purchase. As part of the Prairie Breeze Wind Energy Project in nearby Boone and Antelope Counties, the developers agreed to provide funding to the NLT for an easement that protected habitat for grassland wildlife and bats. With its riparian woodlands and native prairie, the land was an ideal site to achieve this goal. Additional funding has also been provided for grassland restoration and enhancement on the property. Thanks to Laura and Gary Marshall and their family, a long-running love affair with the land will continue to flourish for generations to come.