In 1983, the late Fred Thomas wrote a popular, well-informed column for the Omaha World-Herald titled "Your Environment."  On one occasion, he "asked a few veteran Nebraska travelers to select the prettiest places in Nebraska."  According to Fred, "Sowbelly Canyon drew more mention for No. 1 than anyplace else."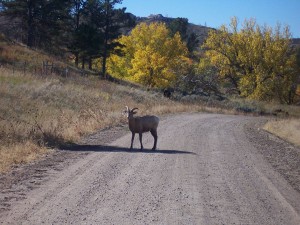 Sowbelly Canyon creases the north slope of the Pine Ridge in the northwest corner of Nebraska.  With weather-sculpted sandstone buttes, prairie, pine forest and a trout stream, it is easy to envision as the prettiest place in the state.  All of these resources are found on the 1,304-acre Sowbelly Ranch north of Harrison in the heart of the canyon.  Last December, its owners Jim and Chris Voeller, permanently conserved the land through a conservation easement with the Nebraska Land Trust.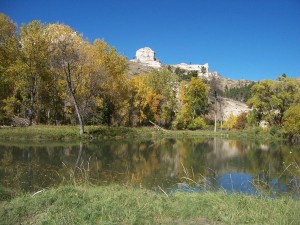 Jim and Chris were especially keen on conserving the unfragmented habitat their ranch provides for elk and bighorn sheep.  In 2012, the Nebraska Game and Parks Commission gained permission to use their ranch as a reintroduction site for bighorns.  Usually, release sites are on public land owned by the agency.  The Voellers provided a rare opportunity to release bighorns in ideal habitat on private land.  The land is also home to other creatures great and small, as the Pine Ridge is a biologically unique landscape where eastern and western species mingle at the edge of their range.
It always takes willing landowners to permanently conserve private land, but in this case one could add the term "generous."  With limited funds to purchase the easement, the Voellers offered to donate more than half of the easement's value to the NLT through a bargain sale at less than appraised value.  The Nebraska Environmental Trust, which receives 44.5% of state lottery proceeds,  provided most of the balance through a grant for conservation of bighorn habitat.  Other funding partners included the Nebraska Big Game Society, Rocky Mountain Elk Foundation, Wild Sheep Foundation, and the Iowa chapter of the Foundation for North American Wild Sheep.  The diversity of partners speaks to the land's value for wildlife.  The Sowbelly Ranch is truly a place where beauty is more than skin deep.
Photographs by Larry Radant